Hammer Mill / Animal Feed Equipment
Hammer Mill / Animal Feed Equipment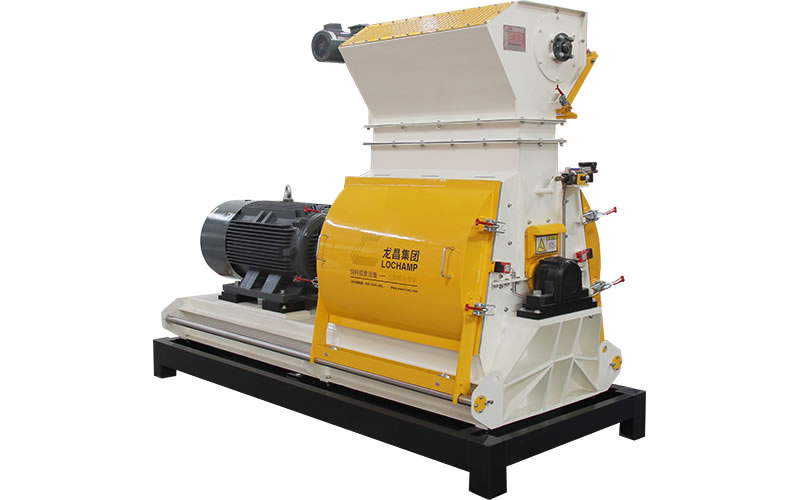 Description
The SFSP series hammer mill is used to crush all kinds of particle feeds, such as corn, sorghum, wheat, crushed pie feeds and other materials. Depending on customers' demands, the crushed particle size can be realized simply by changing the screen. This hammer mill is designed with steel plate welded structure, the motor and rotor installed on the same base, pin coupling direct drive employed, which can reduce the energy loss of the transmission devices and vibration, so as to enable it to operate more stable.
The hammer mill features a water drop-shaped crushing chamber design. Such a structural design forms circumfluence when the rotor rotates, besides such a water drop-shaped design breaks the circulation structure and realizes secondary or multiple smashing of materials. Compared with other models, it increases the yield by 25%.
Parameters
Model
Outline size(mm)
Power(kw)
Hammer
Screen diameter (mm)
Yield(t/h)
SFSP56×30
938×650×1438
18.5
18
Ф3.0
3-4
938×650×1438
22
18
Ф3.0
3-4
SFSP56×40
991×982×1637
30
22
Ф3.0
5-6
991×982×1637
37
22
Ф3.0
5-6
SFSP56×60
715×978×2057
45
22
Ф3.0
5-6
715×978×2057
55
34
Ф3.0
6-8
/
75
34
Ф3.0
8-10
SFSP66×80
1150×1340×2548
90
96
Ф1.0
6-8
1150×1340×2548
110
96
Ф1.0
7-9.5
SFSP66×100
1340×1150×2800
132
120
Ф1.0
8-11
1340×1150×2800
160
120
Ф1.0
11-12
1340×1150×2800
200
120
Ф1.0
12-13
Founded in 1996, LoChamp is dedicated to the production of mechanical equipment sets used for animal feed, organic fertilizer, and biomass fuel. We can provide customers with comprehensive solutions including design, production, installation, and maintenance as well as complete animal feed projects, biomass projects, fertilizer projects and silo projects.